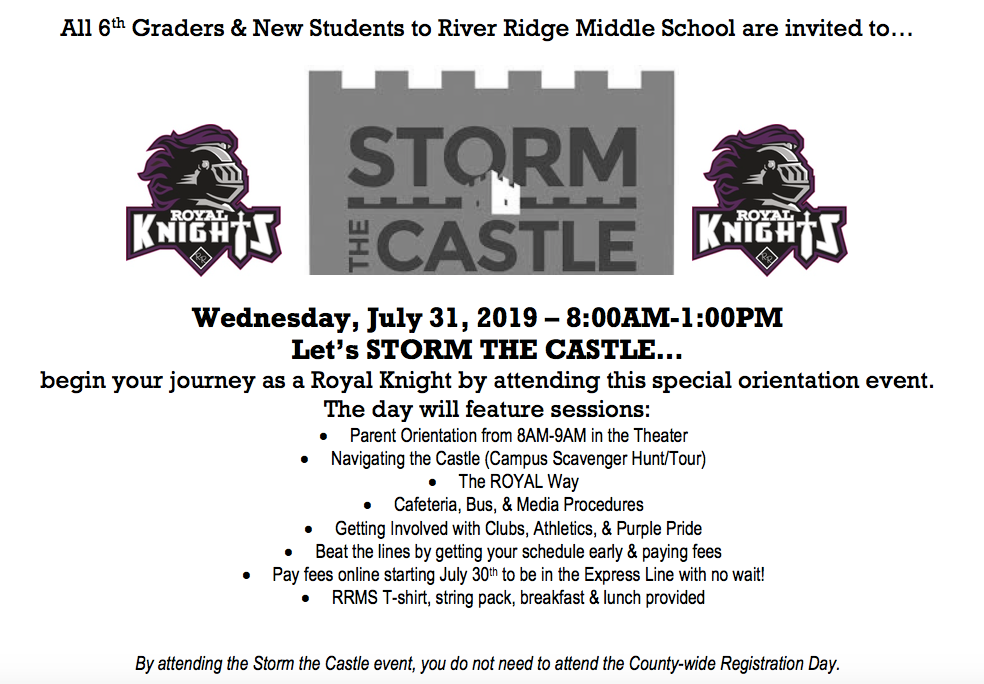 Get Ready, Royal Knights! We are one week away from STORM THE CASTLE… This is our 6th grade and new student orientation day. Students will be dropped off at 8AM at the gym and should be picked up by 12PM in the cafeteria. They will learn the campus, what it means to be ROYAL, meet new friends, enjoy free breakfast and lunch, and receive an RRMS T-shirt. From 12-1, we will have time for schedule pick up, pay fees, purchase spirit gear, PE uniforms, campus tours, etc. There will be an express line for those families who pay online prior to the event.
PARENT ORIENTATION & PRE-SCHEDULE PICK UP @ STORM THE CASTLE in the THEATER
Parents are encouraged to attend the parent orientation to access myStudent & all things RRMS from 8AM-9AM. Those parents who pre-pay the fees online prior to attending and have a receipt may participate in a special schedule pick up from 8:30AM-9:30AM. However, students should stay for all activities through 12PM.
Online fee payment will open in Acorn/Rycor through myStudent on July 30th.
If you attend Storm the Castle, you do not need to attend the Registration Day on August 6th. The County-wide Registration Day on August 6th is for returning 7th and 8th Graders and students who are registering at RRMS.
Please note that these days are NOT Open Houses and you may have limited access to teachers. Please join us for our OPEN HOUSE on August 27th from 6PM-8PM.
If you have any questions, please contact us. We look forward to an amazing kick off to the #bestyearyet! #levelup #WeAreRoyal