12/1-12/15: NWEA MAP Assessment Schedule
NWEA Winter Testing Schedule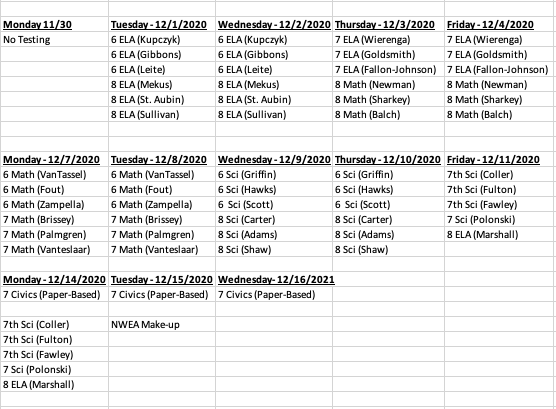 MSOL Students Taking the NWEA MAP Assessment Remotely
Before Monday, 11/30, please make sure your device is ready for MAP Growth testing by visiting: https://check.nwea.org/. 
You must use Chrome as your browser.  Please make sure you have disabled pop-ups in Chrome.
1. Open Google Chrome browser.
2. In the top right corner of your screen, click on the bold word Chrome.
3. Select preferences.
4. Along the left side of the screen select Privacy and Security.
5. Select Site Settings.
6. Scroll to the bottom of the page to Pop-Ups and Redirects.
7. Under Allow click Add.
8. Manually type in [*.]mapnwea.org 
9. Click Add
10. Close and reopen MyPascoConnect and your NWEA icon.
Civics, Algebra & Achieve 3000 Testing
Testing Dates:
Algebra Realize – December 3rd & 4th
Access the Algebra assessment using the Savvas app on myPascoConnect.
Civics CIA 2 – December 15th & 16th
Access the Civics CIA through myProgress (student) on myPascoConnect.
Achieve 3000 – Contact Reading Teacher.
Access the Achieve 3000 Level-Up through the app on myPascoConnect.
If you are unable to access the assessment, please contact Mr. Astone at aastone@pasco.k12.fl.us.
______________________________________________
12/14-12/18: District Finals

District Finals will be in December.  There are a few steps that our MSO students need to take prior to December to make sure their computer is ready for testing.  YOU MUST COMPLETE THESE STEPS IN ORDER TO ACCESS THE DISTRICT FINALS FOR MSOL STUDENTS: