A warm welcome to all students that will be registering to attend RRMS. In order to make your registration experience as smooth as possible, listed below is what is required for a successful enrollment. Please call to set up an appointment time to Registrar.
We look forward to meeting you!
 Debbie Sarris, RRMS Registrar         Kim Manos, RRMS Guidance Secretary 727-774-7239                                        (727) 774-7251
dsarris@pasco.k12.fl.us
 kmanos@pasco.k12.fl.us
REGISTRATION PROCEDURES
Please Call or EMAIL to make a registration appointment for your new student(s). THERE WILL BE NO WALK IN APPOINTMENTS. All forms for Registration go through central registration online.
Our Guidance Office hours: 7:00AM – 2:30PM  Registrations Hours: By appointment only 7:30AM-9:30AM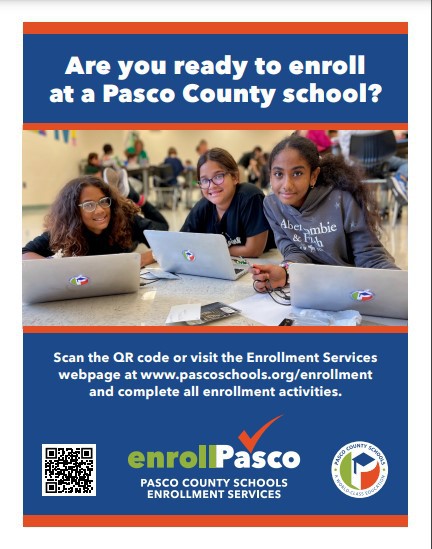 You may review RRMS Courses and Programs at this link. A School Counselor will meet with the student to complete the course card. All courses may not be available pending seat counts.
OUT OF STATE & FIRST TIME FLORIDA STUDENTS (Never been a Pasco County student before)
Students entering a Pasco County Public School for the first time at any grade level MUST complete an online registration.
Necessary Documents:
*Proof  of Residency- Any 3 of the following: water or electric bill (dated within the last 30 days), lease or mortgage paperwork, driver's license with current address.
* FL DH680 Immunization Record (TDap Booster required for incoming 7th grade)
*Must have out of state records transferred
*Proof of a physical exam dated & signed by a physician within the last 12 months
*Copy of a birth certificate
*Copy of a social security card
*Copy of a report card or withdrawal grade form.  Please include records for all grades completed (6, 7 & 8)
*Special education or 504 Plan records (if applicable) to include copies of current IEP and psychological report
*Legal guardianship documents (if applicable)
 In-State Student Transfers
*Proof  of Residency- Any 3 of the following: water or electric bill (dated within the last 30 days), lease or mortgage paperwork, driver's license with current address.
*Physical (if possible)
*Current FL immunization record – Hepatitis B series and TD Booster within the last 5 years (Tdap booster required for incoming 7th grade)
*Copy of a birth certificate
*Copy of a social security card
*Copy of a report card or withdrawal grade form.  Please include records for all grades completed (6, 7 & 8)
*Special education or 504 Plan records (if applicable) to include copies of current IEP and psychological report
*Legal guardianship documents (if applicable)