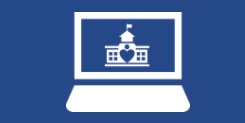 MySCHOOL ONLINE ORIENTATION INFORMATION
If you are participating in the mySchool Online learning option, you do not have to attend the Storm the Castle or Open House day as you will have your own orientation on Thursday, August 13th from 8AM-4PM. Families will RSVP at the link below by selecting a 1-hour time slot to pick up materials, check out a computer (if needed), and receive a general overview of the program expectations. The orientation will take place in the media center.  We ask that only the student and one parent/guardian attend. Everyone must wear masks or face coverings while on campus.
Please RSVP at this link no later than Monday, August 10th: https://www.signupgenius.com/go/4090b48aaab2daa8-myschool
Prior to attending the orientation on August 13th, please make sure to complete the Know Before You Go steps as we are attempting a "touch-free" orientation.
STEP 1: Create a myStudent Parent Portal
You can access your child's grades, view their schedule and stay connected in middle school by creating an account and ensuring your address and emergency contact information is up to date. The portal will open on August 7th.
STEP 2: Pay School Fees
Log in to your child's myStudent account and pay student fees for this school year. You can also purchase yearbooks at a discounted price, join our Opt Out fundraiser, purchase PE uniforms, classroom workbooks, and River Ridge spirit items. BRING YOUR RECEIPT WITH YOU!
STEP 3: Print or Save Your Child's Schedule & Print/Save Receipts to Pick Up Items
Log in to your parent portal to download and print your child's middle school class schedule. Bring it with you when you attend the event.
If you have any questions or need assistance, please don't hesitate to reach out to us.  Thank you for your flexibility and understanding so that we can provide the safest start to the new year!