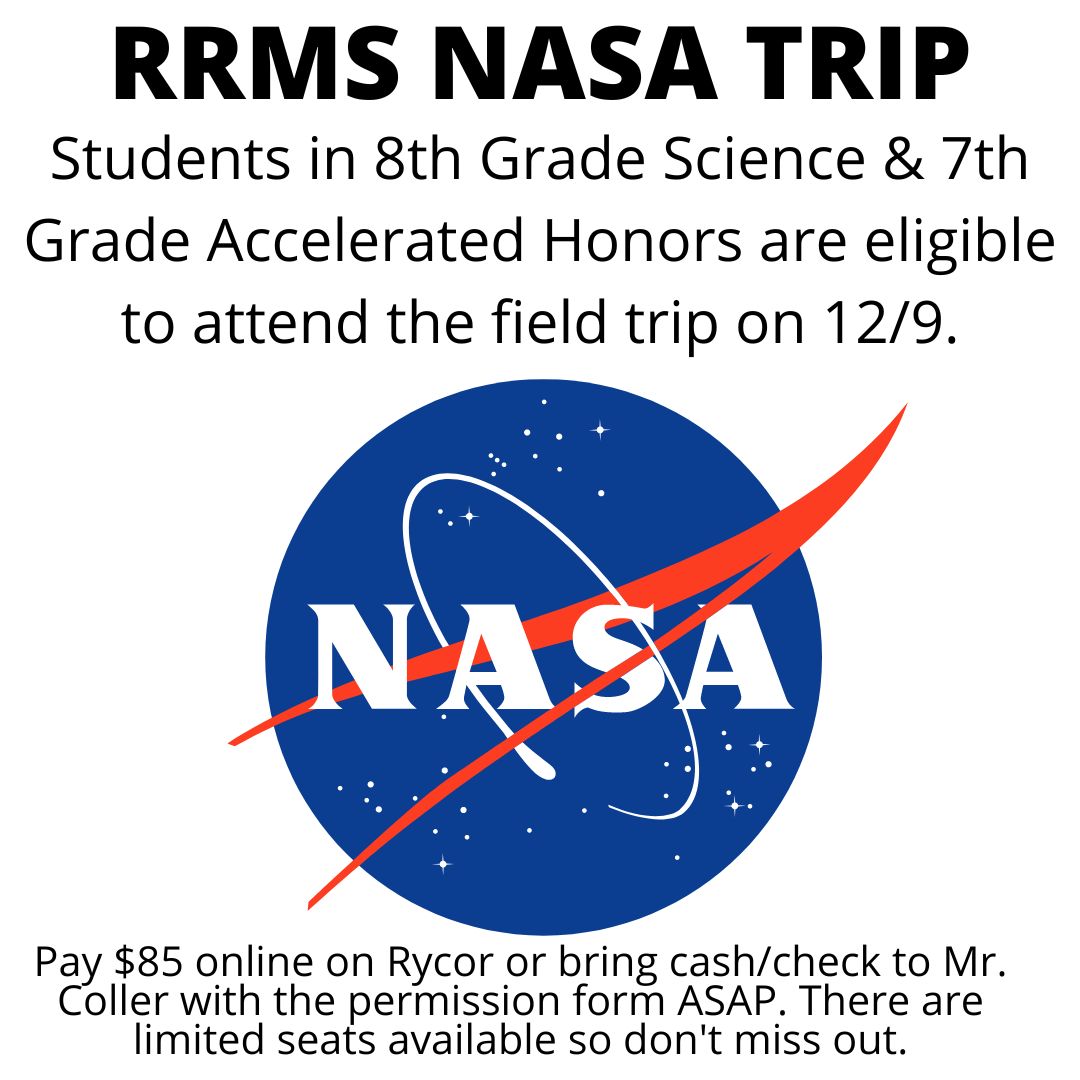 The 8th grade Science classes  and 7th grade accelerated science will have the opportunity to attend an amazing trip.  On Friday, December 9, 2022, students will explore first hand the NASA Visitor Complex at Kennedy Space Center at Cape Canaveral!
We will be leaving school PROMPTLY at 6:00 a.m. and returning back to school about 9:00 p.m.  PLEASE be on time in the morning for departure.  Also, please make sure you have a ride available back at school by 9:00 p.m. upon our return.
On arrival to the amazing Kennedy Space Center, we will tour the entire complex.  We will be visiting the various buildings and exhibits.  In addition to listening to speakers(actual astronauts!), and seeing the launch pads.  They will also have the opportunity to ride the "space flight simulator ride", see an ACTUAL SPACESHUTTLE that went on several missions, and many more fun and exciting things!  We will be there from approximately 9:00 a.m.-6:00 p.m.
COST for the Field Trip:  $85.00 each for both students and parents/chaperones. 
The student special ticket package price includes the entrance fees for all activities, exhibits, simulated space launch ride, and artifact buildings.  The cost also includes the fees for the charter buses.
Included in the student ticket package, students will receive a $15.00 meal coupon to use at any NASA restaurant for their lunch.  Therefore, students do not need to bring a lunch or get one from the cafeteria.  The lunches are included in the price.
Also included is a t-shirt that MUST be worn on the day of the trip.
Seats will be reserved on a first come, first serve basis.  Seats sell out every year!