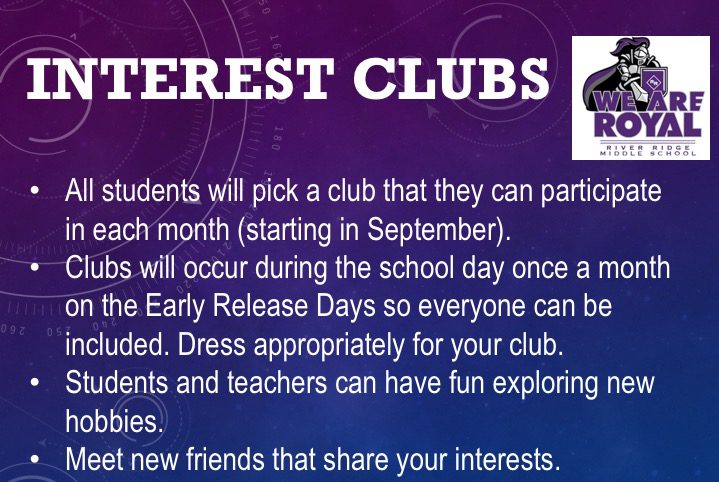 Interest Clubs take place on the following dates in 2021- 22 school year (Early Release Days) during the activity period (9:30AM-10:11AM):
September 8, October 6, November 10, December 8, January 12, February 2, March 9, April 13
Examples of Interest Clubs: Basketball, 4 Square, Anime, Art/Drawing/Coloring, Baking/Cooking, American Sign Language, Jewelry Making, Business, Chess/Checkers, Chemistry/Science Club, Coding and Computer Science, Dance, Crocheting, Dungeons and Dragons, Harry Potter, Debate, Drawing, Engineering, Football, Gaming (Boards, Video, Classic), Gardening, Guitar, Kickball, Minecraft, Rocketry, Running, Movie, Photography, Pokemon, Scrapbooking, Soccer, Tennis, Theatre, Trivia, History, Math, Travel, Volleyball, Yoga, and Study Hall.
After School Clubs & Organizations
These clubs meet on a rotating schedule on Mondays unless denoted.
1st Monday of the Month: National Junior Honor Society (Application Period in October and April)  —  Sponsors: Mrs. Wiergena 
2nd Monday of the Month: Student Council (Elections in May) — Sponsor: Mrs. St. Aubin & Mrs. Brissey
3rd Monday of the Month: Future Business Leaders of America (Application Period in September/October) — Sponsor: Lisa Wifoth
4th Monday of the Month: Thespians — Sponsor: Joseph Grosso (May also meet on Wednesdays with the High School)
Royal Ambassadors (Application in August) — Sponsor: RRMS Administration & Student Services — Spreads our culture of caring through school culture and community activities. Participates in activities to transition new students to RRMS and to make them feel part of the Royal Family. Works with administrators and teachers to voice ideas about school related topics in Knights of the Round Table focus group meetings.