Complete list of summer camps and orientation offerings: Summer Camps_2023
All camp payments can be made online using Rycor (through Parent Portal), on GoFan.co (for select camps) or cash/check made payable to RRMS may be brought to the front office. Please click on the links for the informational flyers and registration information below. If you have any questions, please contact the camp contact that is listed with the camp.
RECREATION SPORTS CAMP: June 5 – June 8 9AM-12PM  $75 Contact Mr. Adams at aadams@pasco.k12.fl.us    Pay on GoFan.co: https://gofan.co/app/events/998594?schoolId=FL78402
VOLLEYBALL CAMP: June 5-June 8 9AM-12PM $90  Contact Coach Brando at cbrando@pasco.k12.lf.us
RRHS ENGINEERING STEM CAMP: June 5-June 8 and June 12-15  $150 for one week, $250 for both weeks  Contact Mr. Hall at drhall@pasco.k12.fl.us.
RRHS Basketball Camp: June 12-15  $125 
Girls and boys K-8 welcomed! Cash/checks accepted at first day of camp. Or mail in to:
River Ridge High School
Attn: Joeyn Dearsman
11646 Town Center Rd
New Port Richey, FL 34654
All checks made out to RRHS. Can't wait to see our campers!!
RRHS Baseball CAMP: June 19-21 9AM-2PM; July 17-19 9AM-2PM  Ages 5-14 (K-8th Grade)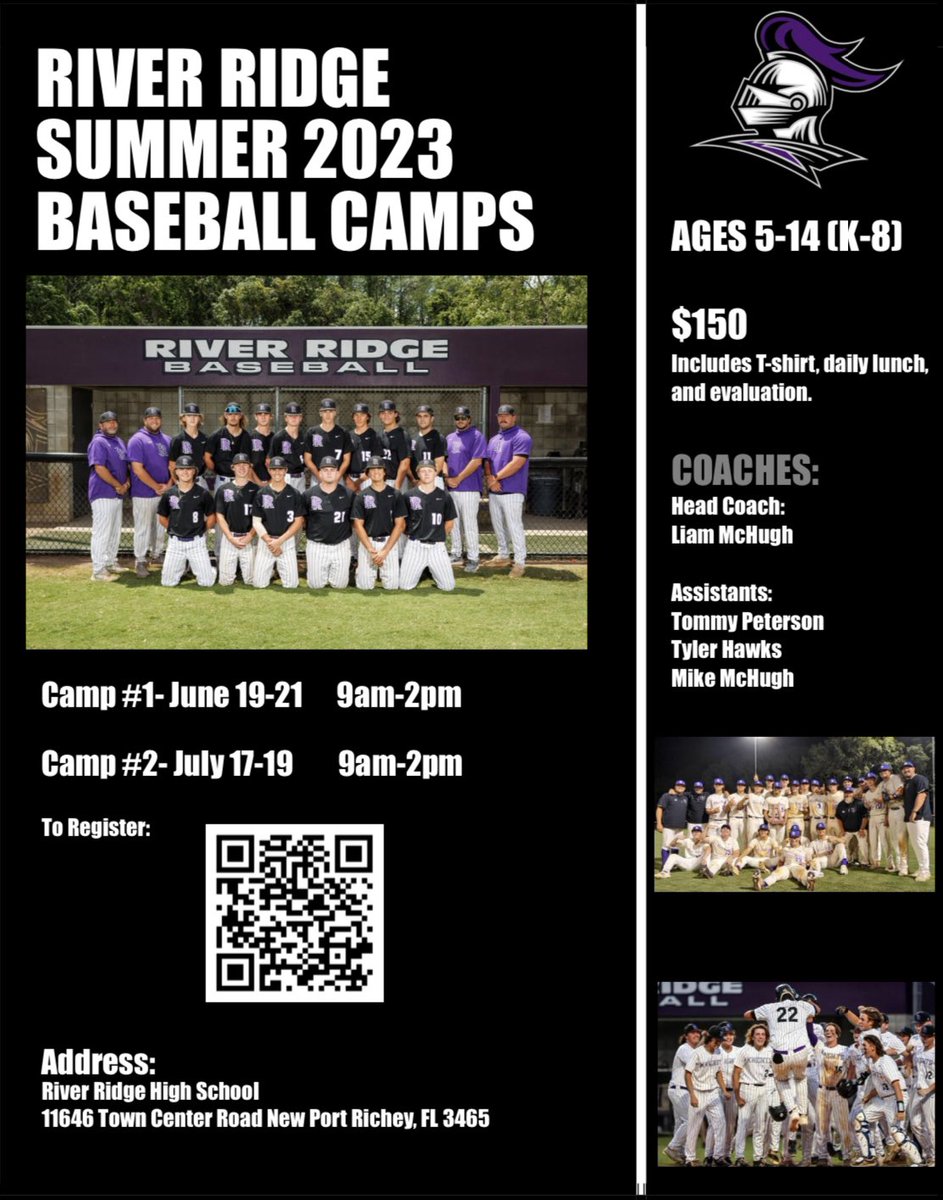 RRHS Tiny Knights CHEERLEADING CAMP: 3 years old through 8th Grade – June 27-June 29 9AM-Noon Contact Coach Blanchard at cblanch@pasco.k12.fl.us.   Payments can be made on the RRHS GoFan.co site.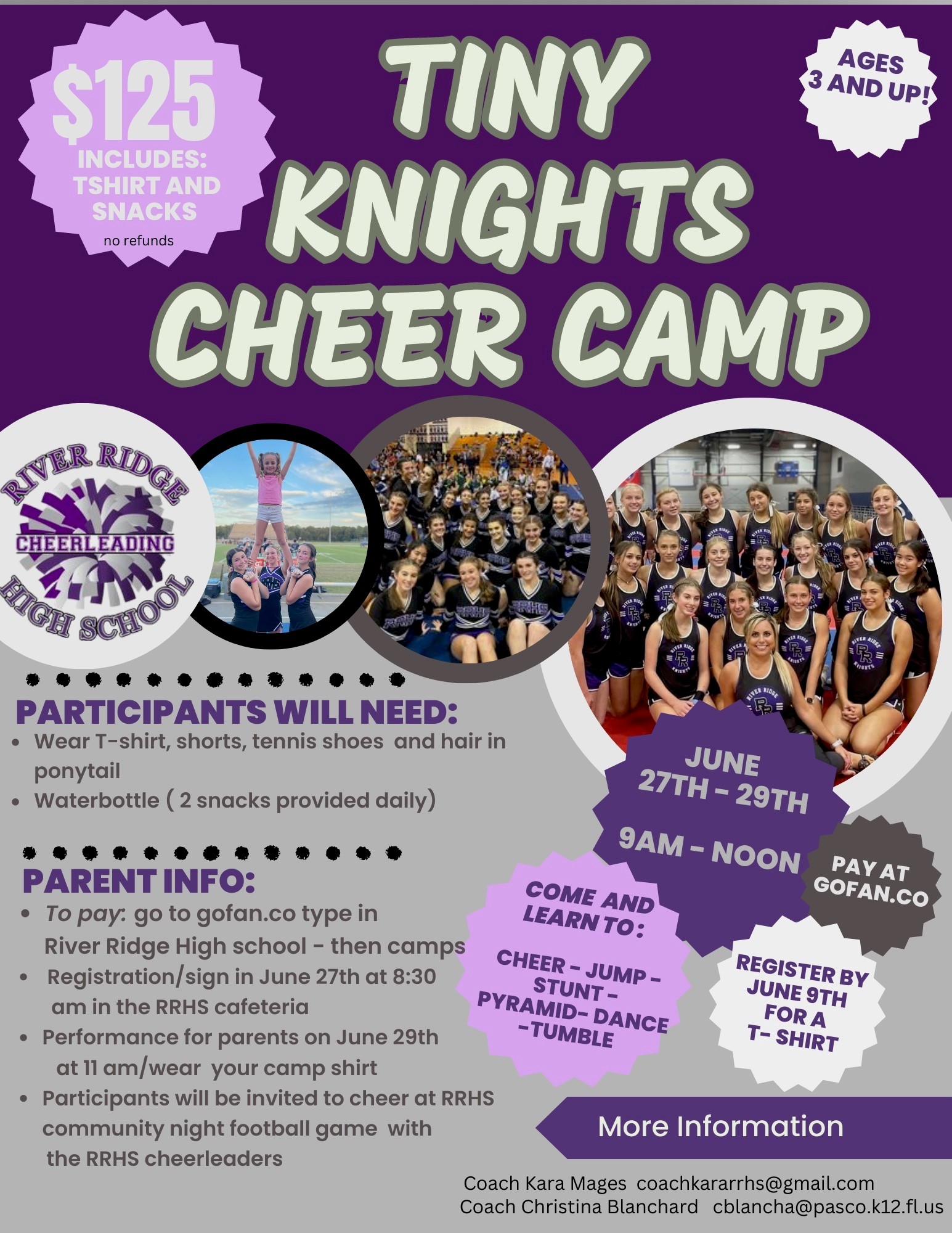 FOOTBALL CAMP: July 17-July 20 8AM-11AM $80  Contact Coach Koos at jkoos@pasco.k12.fl.us.
The River Ridge FAME Academy will be hosting 4 different summer camps this summer. Students do not have to be in the FAME Academy to participate. Camps are open to elementary and middle school students. Please select the individual flyer below.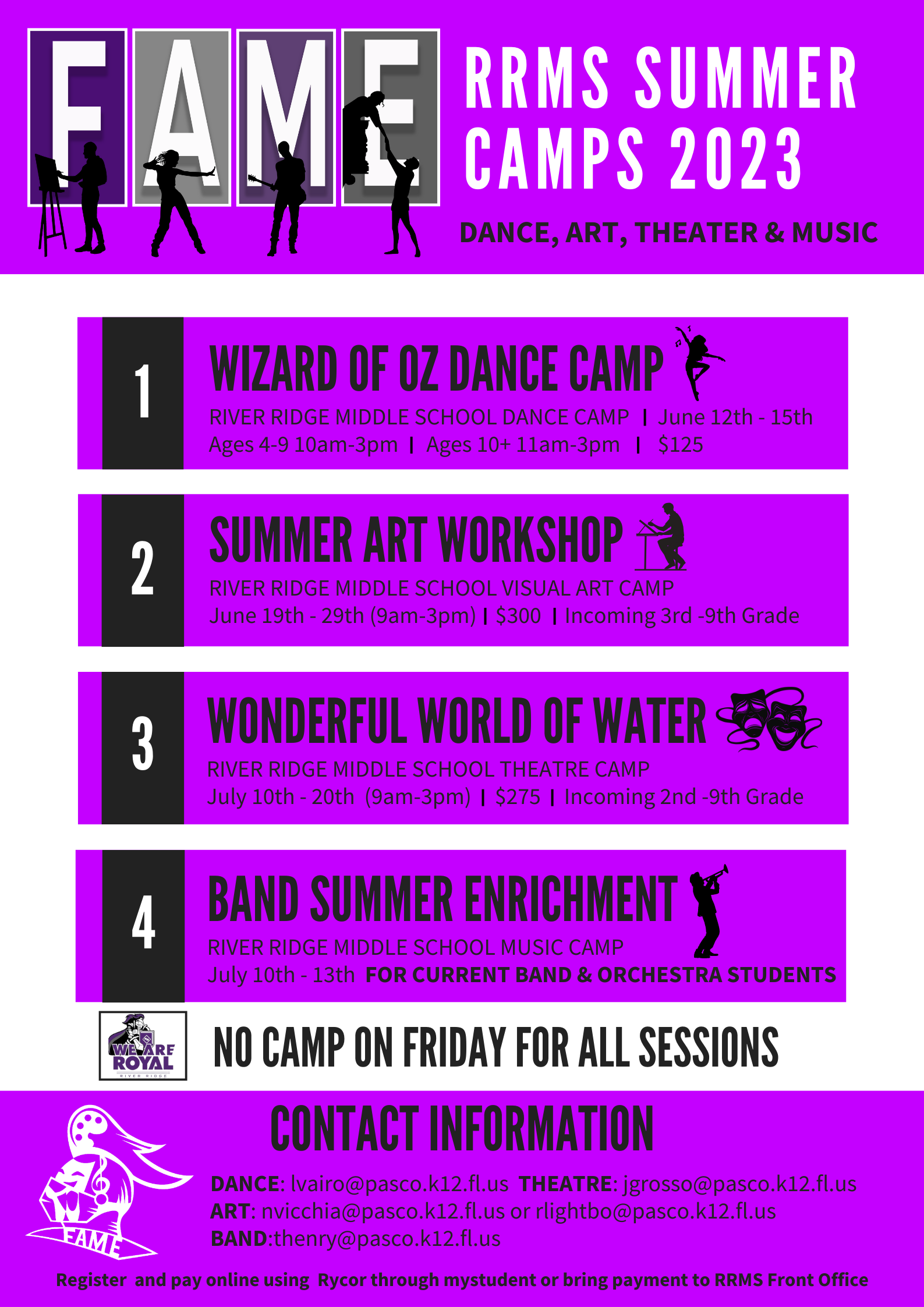 DANCE: June 12-June 15 Times and costs vary based on age. Contact Mrs. Vairo at lvairo@pasco.k12.fl.us.
VISUAL ARTS: June 19-29    8:30AM-3:30PM  $160 per week or $300 for both weeks – Contact Mrs. Lightbody at rlightbo@pasco.k12.fl.us or Ms. Berberich at nvicchia@pasco.k12.fl.us.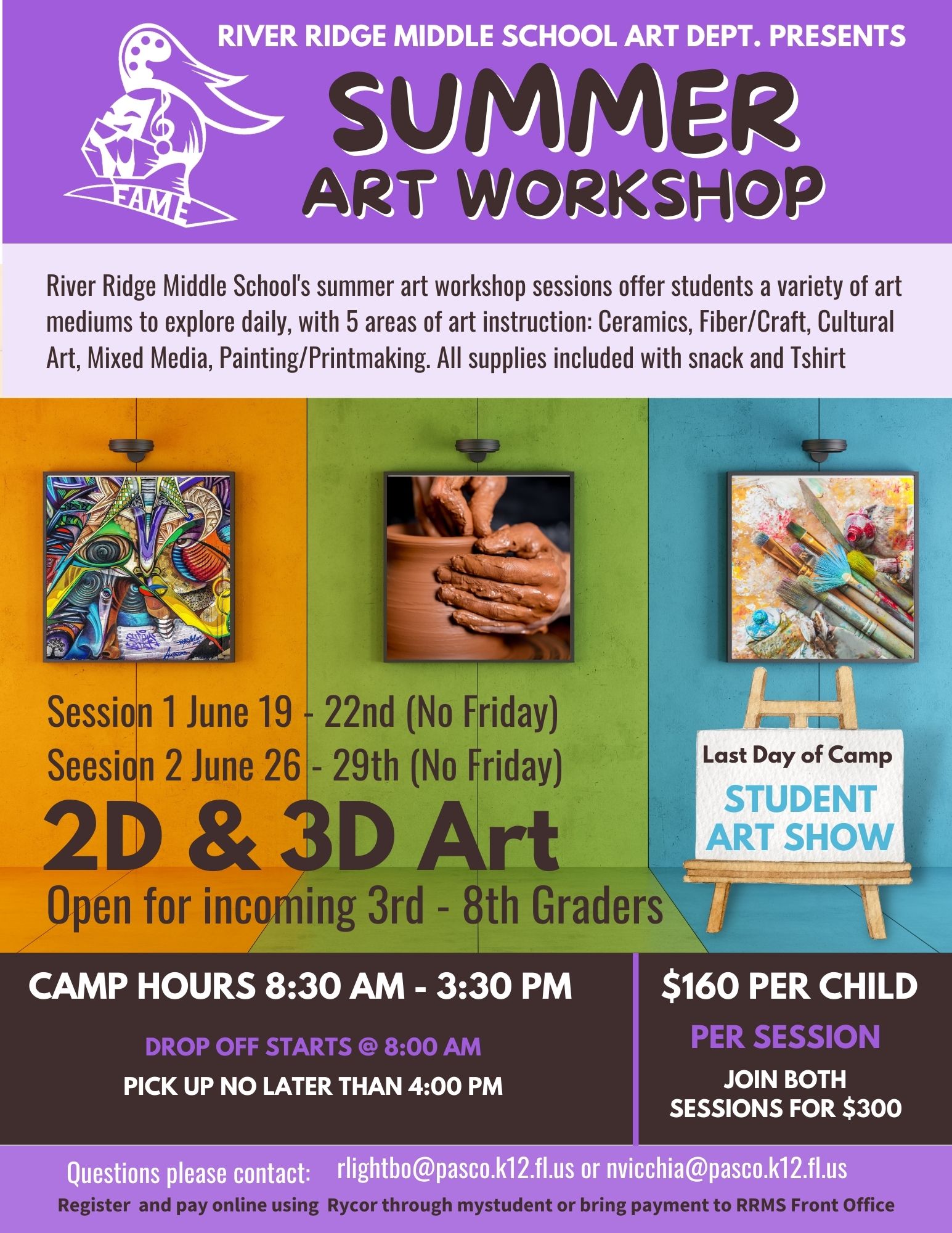 THEATRE CAMP – WONDERFUL WORLD OF WATERS: July 10-July 20  8:30AM-3:30PM Cost: $ 275  Contact Mr. Grosso at jgrosso@pasco.k12.fl.us.